Local Area
Places To Visit In The Surrounding Areas.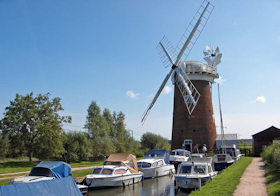 Horsey – 2.6 miles

Situated just a mile from the sea, Horsey is the Broadland village nearest to the coast. Here you can enjoy tranquil walks, either along the Broads which is landmarked by an impressive traditional wind pump or upon the village's beautiful beaches; the favoured setting to spot the much adored seals. You can watch the boats drift by at Horsey's quaint Tea Rooms or admire the peaceful surroundings at their country pub.

Martham – 2.1 miles

Within easy access from Low Farm Barns, Martham is a larger village with the extra provisions you may require during your stay. This attractive village contains two shops, a Butcher's, two pubs where evening entertainment is provided regularly, plus takeaway establishments. The Norfolk Broads crosses extensively through Martham, making this village perfect for walks, sailing and fishing.

Great Yarmouth – 9.8 miles

Great Yarmouth is our nearest town and situated under 10 miles from Low Farm Barns. This lively and exciting dwelling may definitely be described as a traditional seaside town! Here you will be able to indulge in all those guilty pleasures associated with 'being beside the sea': horse rides, funfairs, ice cream, amusement arcades and many more! The town has also however dedicated itself so as not to lose its cultural identity and heritage, hence you will also find an impressive theatre, museums and delightful restaurants.
Family Fun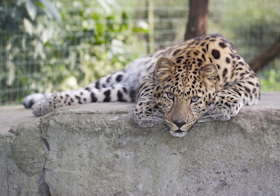 Thrigby – 7.6 miles

Thrigby is a neighbouring village which is home to the popular Wildlife Park and provides a fun day out for all of the family. 'Thrigby Hall Wildlife Gardens,' as it is known, is home to a large variety of birds and wild animals and along with its fun parks and cafes, is one of Noroflk's favourite wildlife attractions.

Hoveton – 11.5 miles

In the village of Hoveton you will find 'Bewilderwood': A huge, award winning forest of family fun and outdoor adventure where you will find tree houses, zip wires, jungle bridges, their own funny, mystical characters, storytelling, boat trips, marsh walks and much more! This is a must have experience for all families visiting Norfolk!

Wroxham – 14.3 miles

Wroxham is a town in the centre of the Norfolk Broads, with breath taking views and tranquillity; here you will find a variety of shops and food establishments. 'Wroxham Barn's' is the perfect place for families to go, where children can visit a petting zoo and even feed the adorable farm animals, plus there is an old fashioned, traditional style fairground which is a special and rare treat for its visitors.

BeWILDerwood

BeWILDerwood is a wild and imaginative adventure park with magical treehouses and a hint of intriguing characters, bringing a curious difference to the Norfolk Broads. The setting for the book, 'A Boggle at BeWILDerwood' by local children's author Tom Blofeld, is a wonderful, mystical land of brave, adventurous creatures who you may never see anywhere else in our world. Parents are encouraged to play alongside their children, which makes for a fabulous and brilliantly exciting day out for the whole family!

Sandringham House

Sandringham is the much-loved country retreat of Her Majesty The Queen, and has been the private home of four generations of British monarchs since 1862. The house, set in 24 hectares of stunning gardens, is perhaps the most famous stately home in Norfolk and is at the heart of the 8,000-hectare Sandringham Estate, 240 hectares of which make up the woodland and heath of the Country Park, open to the public free of charge every day of the year.

Burgh Castle

At Burgh Castle you can explore the best preserved Roman monument in East Anglia. In fact, this is one of the most impressive Roman buildings to survive anywhere in Britain. The Burgh Castle fort was probably called Gariannonum by the Romans. During the 3rd and 4th centuries AD it was one of a chain of 'Forts of the Saxon Shore', sited at intervals around the coast of south-east England. There are other Saxon Shore forts in Norfolk at Caister-on-Sea and Brancaster. The forts protected Britain from attacks by raiders and pirates from across the North Sea, and may also have guarded harbours and merchant shipping.

The Norfolk Broads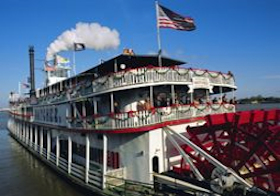 The Norfolk Broads, a part of the National Park family, is a picturesque dwelling of charming waterways and a home to plenty of wildlife. The area covers 303 square kilometres and is the UK's largest protected wetland; therefore lots of fun can be had in these beautiful surroundings, both on land and on water. There is nothing more relaxing than taking a boat out for the day; this can be a time to unwind, as well as being a day out that the children will definitely enjoy.

There are also a variety of charming pubs and other attractions placed along the broads which you will be able to visit. One attraction definitely worth checking out is the Southern Comfort Paddle boat at Horning; Day boats are available to hire from the following villages: Potter Heigham, Wroxham, Horning and Martham, all of which are in a close proximity of Winterton.

On foot the Norfolk Broads are hosts to the most idyllic walks with stunning views. The National Trust have dedicated themselves into ensuring that visitors have the safest and most comfortable access to the surroundings as possible, thus there are a variety of walks and country footpaths available to suit all individual's needs. Broads Authority

What is perhaps most precious to the Norfolk Broads is its exclusive access to the charming wildlife which it is home to; for some of its wildlife the Broads is their only habitat; the 'Swallowtail Butterfly', for example, rare and beautiful, has its only home here. Bird watching is also very popular among visitors, with the Bittern, the Kingfisher and the Marsh harrier being just some of the delightful species that may be spotted in these natural dwellings. Norfolk Wildlife Trust

Cycling in Norfolk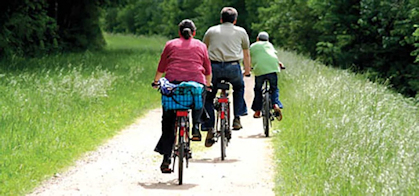 Pedaling through narrow country lanes and woodland cycle routes with the breeze in your hair and sun on your face, or cycling along pretty coastal paths past fields of poppies and golden barley and with the distant sea sparkling on the horizon, cycling in Norfolk gives you the freedom to explore. And, of course, you don't have to be the Tour de France's King of the Mountains to enjoy it – the county's undulations are extremely benign. There are several cycle hire centres in the Broads, many sited close to moorings, and lots of cycle routes to choose from. Broads By Bike

The Sustrans National Cycle Network, using old railway paths, forest tracks, country parks, bridleways, quiet minor roads and traffic-calmed streets in urban areas, passes through Norfolk and is designed to make cycling fun, safe and simple. The quieter paths, including the Marriott's Way, are a great place for children and new cyclists to practice their cycling skills and many are just the right length for a day ride. Sustrans Cycle Network

If you'd like to experience some pure cycling, follow the ancient Peddars Way from the heather-carpeted heaths of the Brecks to the wild north Norfolk coast. Pedlars Way Cycle Path

Bird Watching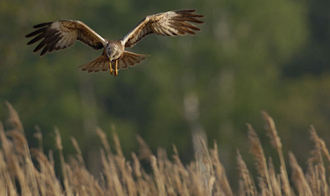 Norfolk may well be the bird watching capital of Britain; there is plenty to see during all the seasons of the year. From rare birds such as the marsh harrier, the bittern and stone curlews to easily recognisable birds like kingfishers and geese, Norfolk has a stunning range of bird life and beautiful nature reserves which are ready to be discovered. Norfolk is a birdwatchers' paradise and a wonderful place for children to begin to learn about their feathered friends and with a variety of child-friendly visitor centres and nature reserves, you will find all the help and information you need to get started.

Common birds which can be found in Norfolk range from our ghostly barn owls cruising along field margins to the bright flashes of kingfishers hunting along a river. Cetti's Warbler sings loudly from the rustling reed beds and may be joined by the Moustached Bearded Tits with their pinging call. You have vast opportunities to watch the winter migrants on the coast, or the spectacular raptors coming in to roost in the Broads; listen to enchanting dawn chorus in the spring in ancient woodlands, or marvel at the nesting Peregrines over summer on the Norman cathedral right in the heart of Norwich.

Winterton-on-Sea is an excellent location on the East Norfolk Coast for migrating birds with rarities over recent years including the Sardinian Warbler, the Pallid Harrier and the Black Lark! Sea birds are always worth checking for all year round and in winter you may find Snow Bunting or Shore Larks along the beach and thousands of Pink-Footed Geese flying between feeding sites.

You do not have to venture far to see these stunning sights. Right on our door step, a mere eight miles away, you can find 'NWT Hickling Broad National Nature Reserve', the largest of the Norfolk Broads. Its wide skies and open landscape offer the perfect place for a walk throughout the year, with a boat trip on offer from April to September. The reed beds in the Broads are home to many birds including booming Bitterns and Bearded Tits. On the water look out for Great Crested Grebes and look up at the skies for the stunning Marsh Harriers. You might also Spot Osprey, Spoonbill, Avocet and even common Cranes which have returned to nest in the area. Hicking Broad

For many bird watchers, 'NWT Cley Marshes' is a compulsory port of call. This peerless nature reserve, the oldest in the county Wildlife Trusts movement and still among the most celebrated, has such a range of habitats and attracts such a diversity of birds that it is a birder's default choice for Norfolk's splendid birds. Cley Marshes

Fishing in Norfolk

The wetland landscape of reed beds and marshes within the Norfolk Broads offers a wide range of fishing for all levels of anglers. The Norfolk Broads is one of the best known angling locations in Britain; with over 300sq km of rivers and shallow lakes, this unique countryside offers the perfect setting to enjoy the delights of fishing.

The Norfolk Broads support a variety of fresh water fish species: Bream, Roach, Eels, Ruff, Perch, Rudd, Tench, and Pike as well as estuarine species such as flounders, Sea Bass, Grey Mullet and Goby and migratory Sea Trout which can be found close to the sea.

The region has plenty of free fishing places and angling platforms along most of the Broad's river banks and you can also fish from a boat on its open waters. Additionally, there are Private Broads that offer fishing by prior arrangement and 'Day Ticket Bank Fishing Spots.' There are numerous places across the Broads that facilitate wheel-chair friendly fishing platforms; at Rollesby Bridge, Filby Broad, the south-east bank at Martham on the river Thurne and upstream of the New Bridge at Potter Heigham, all within a few miles of Low Farm Barns.

'Known Hot Spots' include Potter Heigham, where you may find Bream, Roach, Hybrids and Eels and Wroxham and Hickling Broad, which are home to Pike and Ruff. You may also find Perch in Ludham basin, Tench at Malthouse Broad and Sea Bass at Great Yarmouth Harbour. Furthermore some of the best urban free fishing for Roach and Perch can be had along the banks of the river Wensum in Norwich.

You must have a valid Environment Agency Rod Licence; available from the Post Office or online, to fish on the waters of the Norfolk broads.
Pampering and Well-being
The Lavender Room

The Lavender Room is a sanctuary of peace and tranquillity providing a healing and holistic haven in which you can feel cocooned from the world outside. A cosy candlelit room, fresh soft towels, relaxing music and beautiful aromas will all ensure that your time here is a truly luxurious experience. All beauty and holistic treatments are delivered to an exceptional standard through the use of naturally based products to restore, re-balance and revive your mind and body.

www.thelavenderroomnorfolk.co.uk